Incentives & Reconciliation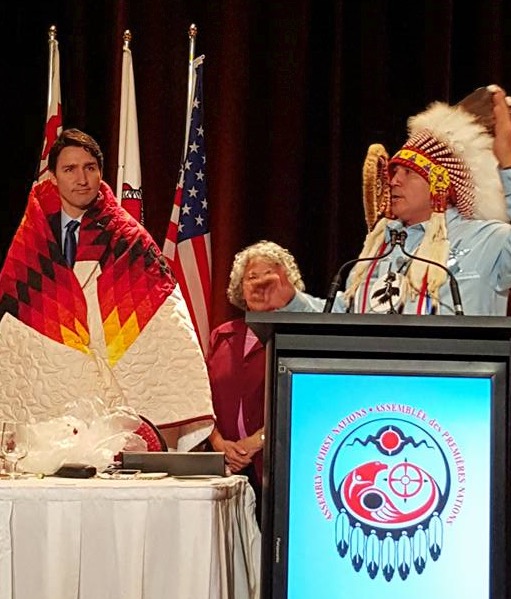 Replacing the Adversarial Ideology:
Indigenous Reconciliation
through Incentives
By Wayne Garnons-Williams
True Indigenous reconciliation can finally start, now that federal government decision makers have real incentives for effecting change and a framework to allow for that change happen.
On December 8-10, 2015, the Assembly of First Nations (AFN) held its annual gathering of all Chiefs. As the AFN does with every important assembly, it extended an invitation to the Prime Minister of Canada. The last time a Prime Minister had actually made an appearance at an AFN all‑chiefs conference was back in the early 1980s, when, as part of his preparations for patriating Canada's Constitution, Prime Minister Pierre Trudeau attended.
In October 2015, when Justin Trudeau was elected Prime Minister, he received the same invitation. He immediately accepted. Understanding the importance of this gathering, Prime Minister Justin Trudeau not only showed up, he also brought his Justice Minister, his Minister of Fisheries and Oceans, the Commissioner of the RCMP and the Minister of Indigenous Affairs and Northern Development.
As we all know, politicians who want to dodge an issue merely make an appearance. They are window dressing, applauding their Prime Minister's speech and leaving immediately. Not so the top officials who formed Prime Minister Justin Trudeau's posse. Together they made this year's AFN gathering an historic occasion. Each one stayed for the day. Each attended the conference plenary sessions. Each made it clear that they were receptive to the concerns and ideas expressed, and that they were open to dialogue. These new heads of major government departments listened attentively to the concerns of the assembled chiefs. Along with the Prime Minister they spoke, and attempted to capture the issues of concern, suggesting steps for follow‑up. Their consultation was genuine; their action was immediate.
During the conference, the newly elected Liberal government made significant statements, promising removal of the 2% Indigenous funding cap and the re‑examination and possible roll back of Harper‑era anti-Indigenous laws. Commissioner Paulson of the RCMP formally admitted that racism is present in the ranks of the RCMP and needs to be addressed. Justice Minister Jody Wilson‑Raybould noted that the Inquiry into Missing and Murdered Indigenous Women will begin its consultation phase immediately. Hunter Tootoo, Minister of Fisheries and Oceans, emphasized that fisheries management needs to be consistent with constitutionally protected Aboriginal and treaty rights. And Prime Minister Justin Trudeau stated that Canada will sign the United Nations Declaration on the Rights of Indigenous Peoples, and will actively live up to Canada's commitment to have a true, meaningful, Nation‑to‑Nation relationship with Canada's Indigenous peoples.
Each of these messages in its own right is a huge leap forward for Canada, toward reconciliation with her Indigenous peoples. Most striking, however, is the fact that they aren't just statements of good intent. They are clearly conceived goals, backed up with solid, detailed methods for making reconciliation actually happen. They include the means, and the framework, for bringing these goals to fruition.
Statements alone are nothing new. Generations of Indigenous peoples have heard endless promises from successive governments, complete with slogans like "outstanding business," "in all fairness," and "Justice at Last." None of these promises has ever been followed through with meaningful and positive change, or even with a re‑start to the relationship. There has always been a disjuncture between the word at the top, and the action on the ground. Government of Canada institutions have always, since pre-Confederation, engaged in adversarial brinkmanship against Indigenous interests. They have done this despite countless promises from successive new governments. Government of Canada managers have always lacked the will and the mechanism to effect true change. Until today.
Structural Incentives for Reconciliation Results
The new Liberal government of Justin Trudeau has accomplished something that no other previous government of Canada has ever managed. It has made a Nation‑to‑Nation relationship possible, through individual letters of mandate issued by the Prime Minister to his senior Cabinet Ministers. These are no ordinary orders. They make Nation‑to‑Nation partnership a national priority and provide the means for government to effect these positive changes.
Prime Minister issues mandate letters to the Ministers who run the government. Mandate letters empower Ministers to set political priorities and to express those priorities in terms of policy. They set up a framework to be carried out by a Ministerial Deputy Head or Deputy Minister (DM), the specialists who oversee and run government departments. Armed with a mandate letter, a DM can issue specific and detailed expectations to his or her assistant deputy ministers (ADM), in the form of annual personal and tailored performance objectives. To the degree his or her performance objectives are met, each executive gets a bonus ranging from 3% of salary for "fully satisfactory" performance to 10‑12%, for performance deemed "exemplary."
Prime Minister Justin Trudeau has issued a Mandate Letter to each of his Ministers that empowers them to steer their departments toward true Nation‑to‑Nation relationships with First Nations. This priority, as apportioned in each performance agreement, will resonate all the way to the pocket books of senior managers in every department in the Government of Canada. It provides monetary motivation to every senior manager in government to achieve concrete results. The better the senior managers are at achieving these measurable performance objectives, the greater their personal financial reward. The effect will be galvanizing.
A Nation‑to‑Nation relationship between Canada's Indigenous peoples and the federal government of Canada is much more likely to be achieved at the grassroots level of each government department.
Replacing Adversarial Ideology with Partnership
There is an outdated old ideology, still prevalent in the federal government, that depicts Canada's Indigenous peoples as a threat to the Crown. This hostile system needs to be replaced, in the hearts and minds of federal government decision makers, department heads and senior managers, with a new mind-set viewing the original and rightful owners as cooperative partners.
Carolyn Bennett, Minister of Indigenous and Northern Affairs, has captured the new ideological framework needed: only recognition of "Rights, Respect, Cooperation and Partnership" (which has already come to be known, in government circles, as "Triple RCP") will allow government departments to consult and work with Indigenous peoples toward reconciliation and a Nation‑to‑Nation relationship. This new approach applies to every government decision maker, at every level. As a problem solving tool for Indigenous issues, Triple RCP is a brilliantly constructed. It will dissolve reluctance on the part of bureaucrats to move away from the status quo.
Conclusion
If real change is going to happen, there are crucial next steps. A lot of work will have to be done by both Indigenous peoples and government decision makers.
The Prime Minister's Mandate Letter prioritizing the Nation‑to‑Nation partnership provides a yardstick for measuring results; there can now be a significant move toward true reconciliation with Indigenous peoples of Canada.
About the Author:
Wayne is Senior Lawyer and Principal Director of Garwill Law Professional Corporation. Garwill Law offers Litigation, Advocacy, and ADR representation as well as policy, regulatory and legislative analysis, opinion, and development in most areas of federal government.